Wei Li
Please Note

This person can no longer be contacted through the School of Engineering and Computer Science at Victoria University of Wellington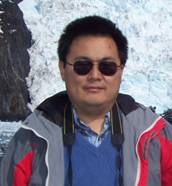 Research Interests
My research interests are in information theory and cognitive wireless networks. My current research areas are:
compressive sensing;
novel modulation and diversity schemes for high speed wireless transmission;
Ultra-Wideband (UWB) channel modeling, signal detection and networking;
powerline communication;
locating and tracking based on wireless sensor networks;
network self-optimization and heterogeneous networks.
My research also covers practical industrial topics such as
cross layer design for connection aware applications;
service oriented baseband design for RFID (Radio-frequency identification);
UWB for medical applications and standardization of telecommunication technologies.
Publications
For a list of my recent publications, please see the
Publications Database
.
Open Research Topics for Students
Drop me an email if you are interested in any of these topics:
Positioning with Compressive Sensing
Cognitive radio, Dynamic Spectrum Allocation
UWB modulation and network design, radio signal detection with Digital Signal Processing (DSP) approaches.
Simultaneous Localization and Tracking (SLAT) based on wireless sensor network.
Wireless network self-optimization and heterogeneous networks.
Video streaming over wireless mesh networks.
Medical Applications of Body Area Network (BAN) and wireless sensor network.
Cross-layer design of wireless networks, telecommunication protocol/standard study.
Biography
I received my PhD in Electrical Engineering from the University of Victoria, Canada in 2004. Before I joined Victoria University of Wellington I worked as a research scientist in Orange Labs (France Telecom) San Francisco, and then hold an engineer position in Telus Mobility Canada.