Cooling by Boiling | Te Whakamātao Mā te Paera
Introduction
Abstract
Water in a vacuum jar boils even though it is below room temperature. As the pumping proceeds, the water cools.
Principles Illustrated
The molecules of water in the liquid have varying amounts of energy. The most energetic are able to leave the liquid and enter the vapour. As these are pumped away, the average energy of the molecules left behind in the liquid decreases. This is seen as a reduction in the temperature of the liquid.
Content
Video
English version
Te Reo Māori Version
Instructions
This demonstration works well in a large lecture theatre with a video camera pointed into the vacuum jar and connected to a data projector.
Note: This demonstration can wreck your vacuum pump by contaminating the oil with water. Use an old one if possible and change the oil after finishing the demonstration. Be sure the cold trap is in place and cold (use Liquid Nitrogen) or you may ruin the pump.
Other Information
Safety
Be sure to use a sturdy vacuum jar and wear goggles. Also, wear goggles when using the syringe as the top can pop off if the handle is released suddenly.
Individual teachers are responsible for safety in their own classes. Even familiar demonstrations should be practised and safety-checked by individual teachers before they are used in a classroom.
Related Resources
You can do something quite similar with a syringe full of warm water. Pull the syringe back hard and watch the water boil. See also our frozen nitrogen demonstration.
Notes, Applications, and Further Reading
This is an example of the results. Contact us if you want the data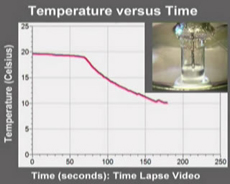 Credits
This teaching resource was developed by the Te Reo Māori Physics Project with support from
The New Zealand map shown on the poster frame above is used with permission from www.nz.com.
This teaching resource was developed in collaboration with Mabel Stewart, a New Zealand Science, Mathematics and Technology Teacher Fellow, 2008, hosted by Victoria University School of Chemical and Physical Sciences.