Is It Really Yellow? | He Kōwhai Rūkahu?
Introduction
Abstract
An introductory human colour vision experiment: The difference between perceptive and spectral colours is examined.
Principles Illustrated
Is it really true that the primary lights red and green combine to make yellow? Students explore this issue by comparing the behaviour of sound waves and light waves, and by learning how a combination of red and green "fool" the eye into seeing yellow by causing the same response in the cones. This introductory resource would usually be followed by Seeing Colours.
The human eye normally has three kinds of cones: ones that respond mostly to red light, ones that respond mostly to green light, and ones that respond mostly to blue light. Colour perception is based on the response of these cones to incoming light, and many combinations of wavelengths of light can appear the same. This resource introduces colour perception and would usually be followed by Seeing Colours.
Content
Instructions
You will need to make a "one-way" mirror box for this demonstration. You also need two lamps, low wattage colour bulbs, and at least one dimmer. Here is a diagram of the apparatus and here a photo of one version. By adjusting the brightness of the lights one can get various shades of yellow. A prism separates out the colours of white light. A good approach is to set a sodium lamp nearby and have students adjust the dimmers to get approximately the same yellow. Diffraction grating glasses are then used to show that the sodium light produces "real" spectral yellow (top) while the red and green lamps produce "fake" perceptive yellow (bottom). Here is what you see through the diffraction grating glasses.
Other Information
Safety
Electrical safety in this demonstration requires some attention. Pay particular attention to electrical fire safety. Our boxes are pretty large (50 cm x 50 cm or so) and dissipate heat well. Use low wattage 40 W bulbs and monitor the box to make sure the interior is not getting too hot. Separating the bulbs slightly shows the illusion in a different light, so to speak As an alternate, low voltage bulbs can be used with a DC power supply.
Individual teachers are responsible for safety in their own classes. Even familiar demonstrations should be practised and safety-checked by individual teachers before they are used in a classroom.
Related Resources
He Kōwhai Rūkahu? (Candle Under Water), Kitenga Tae (Seeing Colours), Ngā Tae Rorohiko (Computer Colours).
See also one-way mirrors and strange reflections
Notes, Applications, and Further Reading
The human eye perceives colours using three kinds of colour sensitive light detectors called cones on the retina. The colour responses of the three kinds of cones overlap quite a bit, but for simplicity we will call these red-sensitive, green-sensitive, and blue-sensitive cones. The colour information provided to the brain is determined by the response of the cones to the incoming light, so many combinations of wavelengths of light will appear the same to the human eye. Our favourite is the combination of red and green to make yellow but red and blue or green and blue can also be used to give the perception of other colours. In fact, this is the basis of our image displays: TV sets, computer displays, cell phone displays, etc are all based on RGB technology in which combinations of Red, Green, and Blue are used to simulate other colours.
You can find some useful discussion of human vision on the Hyperphysics web site among many others.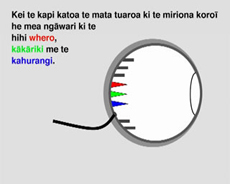 Credits
This teaching resource was developed by the Te Reo Māori Physics Project with support from