OOPSLA 2008
http://www.oopsla.org/oopsla2008/
Attending
JamesNoble
DavidPearce
CraigAnslow
StephenNelson
RaduMuschevici
Travel
Craig flys out of Wellington Friday 17 October via San Francisco to Nashville. Craig returns Friday 7 November. Radu and Stephen fly out of Wellington on Wednesday 15 October. They spend one day in LA visiting Shane and Todd at UCLA. Stephen returns to Wellington on Saturday 25 October. Radu continues onto New York and then Germany.
Road Trip
A hunka hunka love
ElvisGoesToGraceland
on Friday 24 October
Pics
Down main st in Nashville heading for somewhere to eat.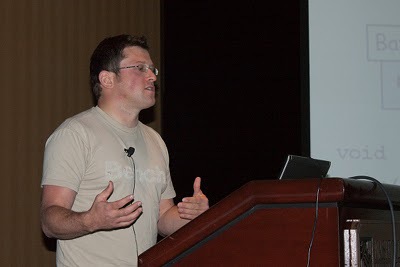 Dave giving his talk about JQL.
Lunch time.