Welcome to the World of Mechatronics
About us
Mechatronics considers complete systems based on the principles of electronics, control, design and software. The modern world depends upon mechatronic systems from mobile phones to autonomous robots. Research strengths in this group include search & rescue robotics, anthropomorphic/bio-inspired robotics, rehabilitation (orthotic & prosthetic) devices, measurement & instrumentation and medical technologies.
About Our Research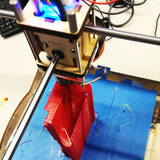 Read about the different topics the Mechatronics Research Group is involved in by visiting the
Research Areas
page.
About Our Staff
A list of current students and the staff involved in the Mechatronics Group can be found here:
Publications
Each
research topic
contains a list of publications released in that area:
Ph.D. Opportunities
Ph.D. applications are welcomed at any time of the year, but please see the
Doctoral Scholarship
pages for submission times for these contestable funding opportunities. Bespoke opportunities are advertised when available:
PhD Position in Affective Robotics
Open PhD position in Affective Robotics: Full doctorate scholarship available to conduct research in analogues of emotion for robotic mapping, localisation and path planning available at Victoria University of Wellington, New Zealand (VUW). VUW is ranked number one in New Zealand for research in the NZ government research exercise. PhD scholarship scheduled to start throughout the year. Candidates are invited to send an email with a letter expressing their interest for the proposed research and their CV, including full transcript, English-language test score and any publications, to the supervisors
Prof Dale Carnegie
and
Prof Will Browne
Project Description:
The field of affective computing seeks to draw analogues of human emotions for the benefit of artificial systems. This may be in interaction with humans, communication or in decision-making, where the latter is the focus of the proposed research work. Analogues of emotion are to be utilised to develop an autonomous robot for mapping, localisation and path planning when exploring unknown, unfamiliar and/or dynamic environments with the potential application of search and rescue robotics. The work is to be grounded in theory of emotion, e.g. Plutchik, Rolls, Damasio and Darwin. This position would suit a student who has an interest in autonomous robotics. It is preferred that the candidate have some computer programming, electronics and control systems experience. An interest in psychology is advantageous but not essential. The preferred candidate will have experience in research with supporting journal or conference publications.
PhD Position in Related topics
We would happily consider research into the following topics:
Sonic Arts - Musical mechatronics, from autonomous bass players to superhuman instruments
Advanced control - Machine learning methods for advanced model predictive control
Autonomous underground robotics - Mine and disaster recovery robots, including aspects of communication, safety and exploration.